January 23, 2020
Australia-Malaysia research collaborations showcased in new IRU booklet
[vc_row][vc_column][vc_column_text]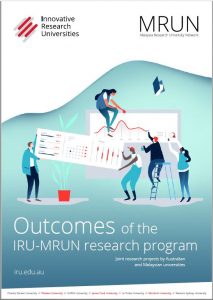 Eleven research collaborations between Australian and Malaysian researchers are showcased in a new booklet published by the Innovative Research Universities (IRU) network.
The featured research projects were jointly undertaken by universities from across the IRU and the Malaysia Research Universities Network (MRUN) as part of a three-year formal partnership between the two groups.
Research projects featured in the new publication include:
Development of a low-cost ventricular assist device (Griffith University and Universiti Teknologi Malaysia)
Enhancing the energy performance of building envelopes in hot and humid climates of Darwin and Kuala Lumpur (Charles Darwin University and University of Malaya)
Detecting food contamination and pesticides (Flinders University and Universiti Kebangsaan Malaysia)
Emerging viruses in agriculture (La Trobe University, Murdoch University and University of Malaya)
Nanofibrous membranes for energy applications (James Cook University and Universiti Teknologi Malaysia).
[/vc_column_text][vc_column_text]The 'Outcomes of the IRU-MRUN research program' booklet marks the formal end of the IRU-MRUN partnership – though relationships between IRU and MRUN researchers have continued on an individual basis.
The publication is a follow-up to the IRU's 2018 booklet The implications of Digital Learning, which focussed on four Teaching and Learning projects established by IRU and MRUN researchers.
Both publications are available on the Publications page of the IRU website.
The Malaysia Research University Network (MRUN) comprises of five Malaysia research universities. Its membership is University of Malaya (UM), Universiti Sains Malaysia (USM), Universiti Kebangsaan Malaysia (UKM), Universiti Putra Malaysia (UPM) and Universiti Teknologi Malaysia (UTM).[/vc_column_text][/vc_column][/vc_row]