October 2, 2020
Higher education red tape has doubled since 2004
"Quality and accountability" regulations for Government supported higher education providers have more than doubled in volume since 2004 and will grow even further if the Job-Ready Graduates Bill passes through Parliament next week without amendments, the Innovative Research Universities (IRU) group has warned.
Division 19 of the Higher Education Support Act (HESA), a core section of higher education legislation that covers provider standards such as financial viability and compliance, has grown in size from 3,173 words (13 pages) in 2004 to 6,478 words (27 pages) in 2020, according to an analysis by the IRU.
This is all additional to TEQSA's scrutiny of all providers, including for universities.
Chart: The growing size of HESA Division 19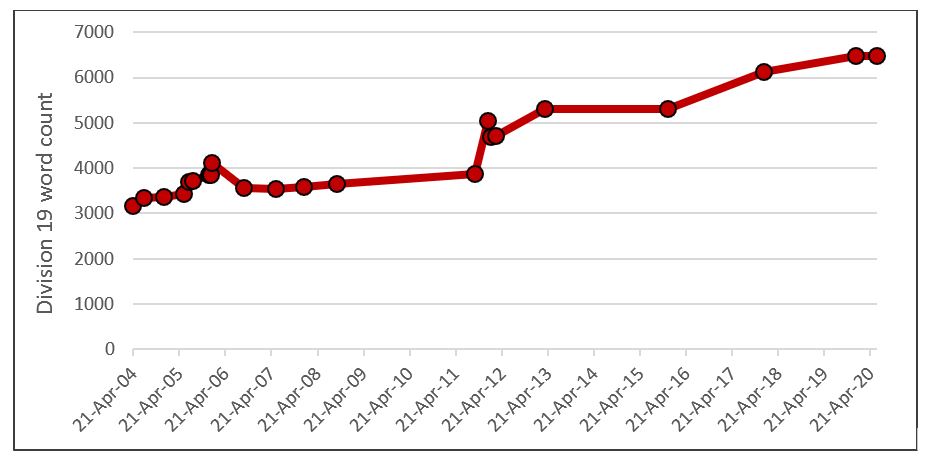 Source: IRU analysis of Higher Education Support Act over time
Universities are exempt from some of the Division 19 legislation, with much of it until now targeted at other higher education providers.
But universities will be subject to the full set of regulations if the Government's Job-Ready Graduates Bill is approved by Parliament next week – even though many of the rules have little practical appliance to university operations, or that of most other higher education providers.
Schedule 4 of the Job-Ready Graduates Bill extends to the university sector a large set of detailed requirements designed to prevent the negative marketing behaviours of some VET providers spreading to higher education. It is not clear the provisions have ever been used.
The IRU supports government regulation around provider standards but is concerned that many of the new rules for universities will lead to additional red tape with little or no public benefit.
"The original Higher Education Support Act 2003 was an example of a Coalition Government's commitment to balance in regulation and red tape," the IRU has said in its recent submission to the Senate inquiry into the Job-Ready Graduates Bill.
"It carefully calibrated the necessary requirements to protect the Commonwealth and students with universities' capacity to undertake education and research to the best outcomes possible.
However, the IRU has pointed out that the proposed new rules are unnecessary and badly targeted:
"Schedule 4 of the Bill, the 'student protection' measures, is not related to the Job-Ready Graduates Package. Its focus on the quality and accountability arrangements would fit better with the Higher Education Legislation Amendment (Provider Category Standards and Other Measures) Bill 2020 also before the Federal Parliament," the IRU said in its submission.
The IRU has undertaken a word-count analysis of HESA over time, since its original version in 2004, to highlight the growing regulation in the higher education sector.
The IRU is calling on senators to remove Schedule 4 of the Job-Ready Graduates Bill in its entirety.