May 17, 2018
IRU students set to study in France after Embassy scholarship deal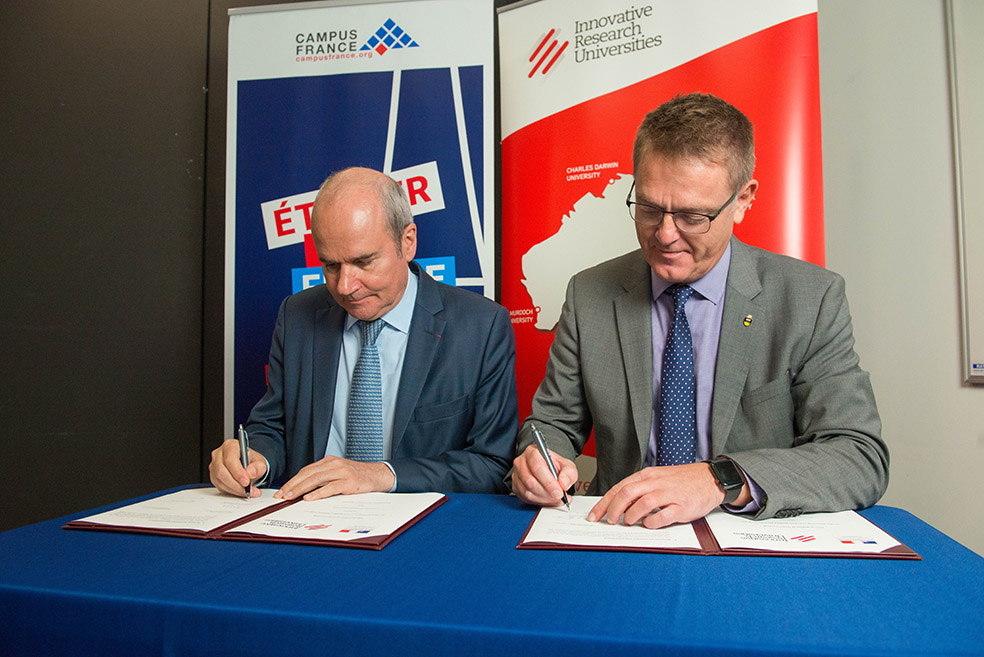 Students at Innovative Research Universities (IRU) campuses will get the chance to spend up to six months in France following an agreement between the IRU and the Embassy of France.
The Nicolas Baudin Internship in France Student Mobility Program will provide Australian students with 3-6 months internships at a higher education institution in France, including return flights and a monthly stipend.
The deal was formalised at a signing ceremony at Flinders University yesterday (16 May) by the Ambassador of France to Australia, His Excellency Christophe Penot, and Professor Colin Stirling, who is Chair of the IRU and Vice-Chancellor of Flinders University.
The agreement topped off a day of French festivities at Flinders University which included a French careers fair and a roundtable discussion on international research collaboration between Australia and France.
Speaking about the agreement, IRU Chair Professor Stirling said:
"This agreement is testament to how Australian universities and France are stepping up to make the most of the opportunities for upskilling a new generation, advancing research and commercialising innovative technology."
"The fields of research open to applicants are considerable – from autonomous vehicles, composite materials and maritime research, to nano satellites, microstructure of financial markets, and the shelf life of wine."
The program is open to students currently enrolled at a member IRU University including international students. It aims to reinforce research collaborations through student mobility as well as strengthening institutional ties between the two countries.
The French Government will provide a monthly stipend for students, with the French Embassy providing a travel scholarship and the participating Australian University also contributing financially.